Abigail Leong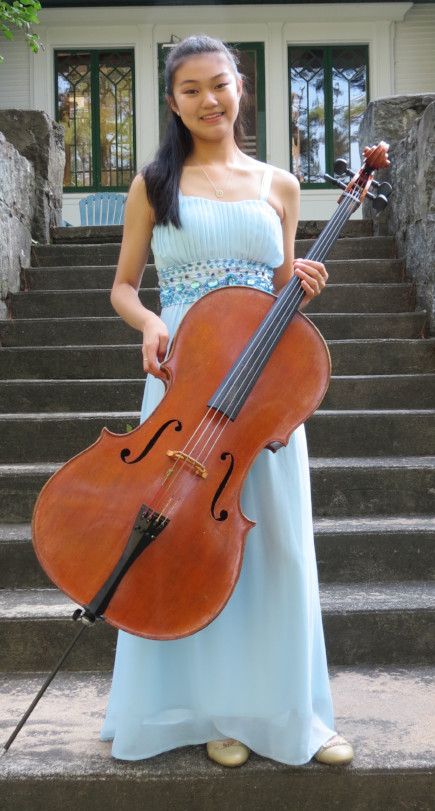 Young Artist Competition Winner
---
Abigail Leong is fourteen years old and attends The King's Academy in Sunnyvale. She started learning cello at the age of four, and her current teacher is Jonathan Koh of the San Francisco Conservatory of Music Pre-College Division, where she is furthering her music studies. Her previous teachers include Irene Sharp, Michail Gelfandbein and Amy Hsieh. At the age of ten Abigail made her solo debut at Carnegie Hall, performing the first movement of the Saint-Saëns Cello Concerto.
An avid chamber musician, Abigail studied at the California Music Preparatory Academy for three years, learning from esteemed faculty Jonathan Koh, Jessica Chang, Gene Chang, Allegra Chapman and Jane Kim. Abigail has also studied at the Young Chamber Musicians (YCM) Program and worked with noted faculty Susan Bates, Debra Fong, Lisa Lee, Eric Gaenslen, Andrew Luchansky, Jeffrey LaDeur, Kai Christiansen, and Samsun vanLoon. She is a member of Trio Cantare, which was awarded third prize at the 2018 Yehudi Menuhin Festival Galante Competition. Abigail also performed in master classes with Julia Lichten, Jonathan Koh, Irene Sharp, Mark Summer, the Daedalus Quartet and Jon Nakamatsu.
Abigail won numerous first prize awards from competitions including: 2018 California State Solo Competition, MTNA State, MTAC VOCE State, MTAC VOCE San Francisco, Pacific Musical Society Foundation Competition, Burlingame Music Club Competition, Korean-American Music Supporters Association Competition, DVC/HNU Young Artist String Competition, United States International Music Competition, ENKOR International Music Competition, and the American Protege International Concerto Competition. Abigail gave performances as a Fremont Symphony Orchestra Young Recitalist Competition winner and as a Junior Bach Festival soloist.
Abigail has participated in music camps and workshops every summer since the age of six. She studied at the Meadowmount School of Music in New York for the past two summers. Abigail enjoys music outreach at retirement homes and hospitals, as one of her goals is to share music with others. Abigail's other passion is dancing tap, modern, and hip hop, enjoying the beautiful choreography of dance and music.