Christopher Florio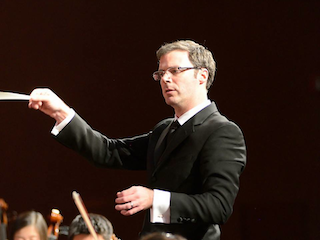 Guest Conductor
---
As a Bay Area Peninsula native, Christopher Florio trained as a prep student at the San Francisco Conservatory of music for five years. Mr. Florio spent eight years in Los Angeles, both studying music and performing with many different ensembles.
During undergraduate study, he was selected to participate in the Society of Composers and Lyricists Mentorship Program, working closely with film and television composers and observing their recording sessions. As a graduate student, he studied conducting and was in constant demand to lead student ensembles as well as semi-professional chamber ensembles.  At UCLA, Mr. Florio studied with world-renowned percussionist and composer Mitchell Peters and wind conducting icon Dr. Thomas Lee.
Since 2005, Mr. Florio has been director of the instrumental music program at the Harker School in San Jose.  Under his direction, the program has seen enormous growth at all levels.  The Upper School Orchestra, in particular, has grown from 28 students at his arrival to close to 90 in just 9 years.  Under Mr. Florio's baton, the Harker School Orchestra has performed at the American Cathedral in Paris, Alice Tully Hall in New York, Segerstrom Hall in Anaheim, Cadogan Hall in London, and Symphony Center in Chicago. 
Known for his passion toward music education in orchestral music, Mr. Florio has earned a strong reputation among music professionals in the south bay and beyond.  A firm believer in the collaboration between professionals and students, Mr. Florio co-founded the Harker Concert Series in 2010.  This event brings renowned musicians from around the world to hold two-hour master classes with Harker student musicians as well as evening concerts for the community.  The series has featured such notable musicians as Taylor Eigsti, Gerald Clayton, The Afiara, Miró and Parker String Quartets, among others.
In addition to his work at Harker, Mr. Florio served as conductor of the ECYS Wind Orchestra from 2009 to 2014 and is a frequent substitute conductor for CYS.  Mr. Florio resides in San Jose with his wife, Katie.