Helen Wu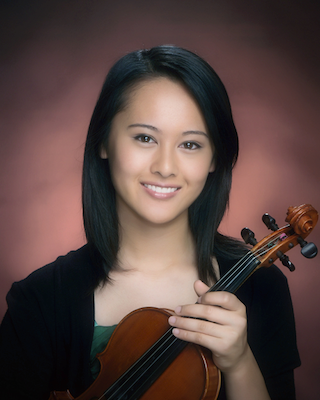 Senior Orchestra Concerto Competition Winner
---
Helen Wu started studying violin at age four and joined the California Youth Symphony in fifth grade to cultivate her love for music in the midst of people who all came together for the same reason: to play music. In 9th grade, she became the concertmaster of the CYS's Senior Orchestra and The Harker Upper School Orchestra. Since then she has had the opportunity to lead CYS in playing many great orchestral works like Rimsky-Korsakov's Scheherazade, Strauss's Don Juan, and Mahler's Symphony No. 5. More excitingly, as concertmaster, she has toured and performed in London, New Zealand, and Eastern Europe, all of which she enjoyed thoroughly.
Helen was a violinist in the 120-member 2014 National Youth Orchestra of the United States of America under the guidance of Maestro David Roberson and the violin virtuoso soloist Gil Shaham. In NYO-USA, she was trained for two weeks by some of the finest professional musicians in the country and then toured coast-to-cast across the country, performing eight concerts in some of the greatest halls in the US, including Carnegie Hall, Walt Disney Hall, and Seji Ozawa Hall in Tanglewood.
Helen was a Junior Bach Festival winner and was invited to perform in the Junior Bach Festival in the spring of 2012. She was also the first-prize winner in the AFAF International Concerto Competition 2014 and the Golden Era of Romantic Music International Competition 2014, for which she was invited twice to play at Carnegie Hall. Additionally, she won first in the US Open Music Competition (USOMC) concerto division in 2013 and was a prizewinner in the 2011 and 2012 USOMC, 2013 VOCE State Competition, and 2014 International Youth Music Competition held in Stanford. In 2010, Helen attended the Music@Menlo summer camp and found the skills she acquired there invaluable in her later musical endeavors. Helen is a senior at The Harker School and currently studies with Mr. Li Lin and Ms. Zhao Wei. In addition to music, Helen enjoys dance and is passionate about scientific research.