Dan Gordon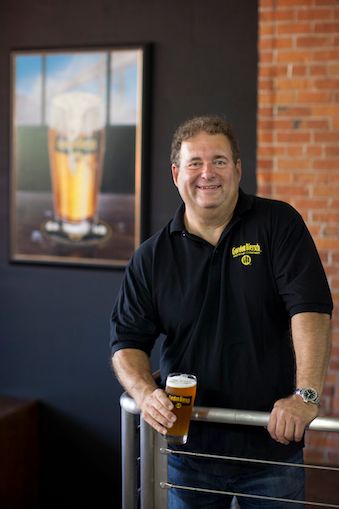 Alumni Profile
---
Dan Gordon, co-founder of Gordon Biersch, has earned a reputation as one of America's leading brewing engineers.  As the director of brewing operations for Gordon Biersch, he supervises the state-of-the-art brewing and bottling facility in San Jose, CA.
Gordon is the first American in more than 40 years to graduate from the prestigious five-year brewing engineering program at the world-renowned Technical University of Munich in Weihenstephan, West Germany.  Before earning his brewing engineer's degree there in 1987, he interned at Spaten Brewery in Munich and served as a technical translator at Lowenbrau Consulting.
Gordon, who was born in San Jose in 1960, entered the program after earning a resource economics degree from the University of California at Berkeley in 1982 and spending a year as an exchange student at the Georg August University in Gottingen, Germany.  He also worked for at the Anheuser Busch brewery in Fairfield, CA to gain the brewing experience he needed to apply to the Technical University of Munich.
After completing the world's most advanced brewing program, Gordon returned to California and joined forces with restaurateur Dean Biersch to take advantage of a new state law allowing brewery restaurants.  In 1988, the partners opened their first Gordon Biersch brewery restaurant in Palo Alto, Calif. 
In the decade since, Gordon Biersch and the concept it pioneered have both expanded dramatically.  But Gordon still makes sure his beloved lagers -- Pilsner, Märzen, Hefeweizen,  and Blonde Bock plus seasonal beers -- are brewed in strict accordance with the German purity laws.  He uses only the finest ingredients, including Hallertauer hops and a pure strain yeast culture from the Weihenstephan yeast bank.
A lesser known attribute is Dan's musical background as a jazz trombonist.  Accomplished on both tenor and bass trombone he has had recorded with Michael Davis on Absolute Trombone II and Curtis Campbell's Blues album "Live at the Sweetwater." As an undergrad exchange student in Göttingen, Germany, Dan spent more time playing in the jazz clubs as opposed to studying and his jazz rock group was featured in a concert at the Deutches Theater (German National Theater).  He continues to be active in the Bay Area jazz scene performing with numerous contemporary big bands and combos.  Gordon grew up in Los Altos  and attended Homestead High School whose famed music program was under the lead Rory Snyder.