Mike McNitt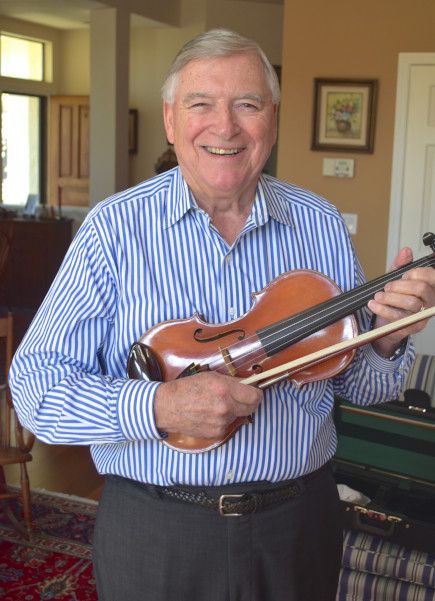 Alumni Profile
---
We are delighted to hear from Mike McNitt, violin, who was a member of the very first CYS orchestra. Mike was there at the first rehearsal in March, 1952 at the Burlingame Recreation Center. Following this extremely interesting and informative conversation, Mike graciously invited us over to his house and then took us to
lunch. He shared many reminisces of those early days playing for founding music director Aaron Sten, as well as his many other adventures from his fascinating
life story. Mike was born in Sacramento but soon moved with his family to Burlingame, where his dad taught English at Burlingame High School. Mike began his violin studies in fifth grade with Elmer Young, who was the orchestra director at Burlingame H.S., but his musical progress really peaked when his dad convinced Henri Shweid, concertmaster of the San Francisco Opera and Assistant Concertmaster of the San Francisco Symphony, to take Mike as a student. Mr. Shweid said he would accept Mike only if he agreed to practice 3 hours every day. Mike took the challenge. In the meantime Mike's dad, A.L. McNitt, along with Elmer Young and a few others, convinced Aaron Sten, who had founded the Peninsula Symphony a few years earlier, to start a youth orchestra. Mike soon found himself as principal 2nd violin in the brand new CYS, performing in its first concert in the fall of 1952. Mike recalls Beethoven's 7th Symphony as one of the first pieces they played. Mike went on to earn a degree in business administration, serve as a naval officer, marry and raise a family, and eventually found his own marketing/communication business – but he still recalls fondly those early years with Aaron Sten and the California Youth Symphony.
It was a great pleasure and honor to have Mike in attendance at our 66th season opening concert at The Flint Center on November 12, 2017, where our Executive Director, James Hogan, made a short speech recognizing Mr. McNitt and his lifelong commitment to dedicated community service and to CYS in particular. Mike was duly impressed with the performance and had the following to say regarding the California Youth Symphony:
Having studied the violin for a number of years under a real talented concert artist, and being in a number of orchestras, I witnessed the mastery of the CYS musicians. I could immediately sense the high level they were performing. It was so impressive. The CYS organization has grown to be a thing of beauty. I pass credit also to Jim Hogan for his long term dedication along with many others too.  Leo Eylar is such an impressive conductor - not only as a professional conductor, but also as a conductor for the youth.  One can see how he inspires them, achieves a superior performance not found at their age, and gives them instruction that takes them to the level found in professionals. Leo Eylar presents a wonderful, warm and caring personality that suits CYS so well.