Christine Lee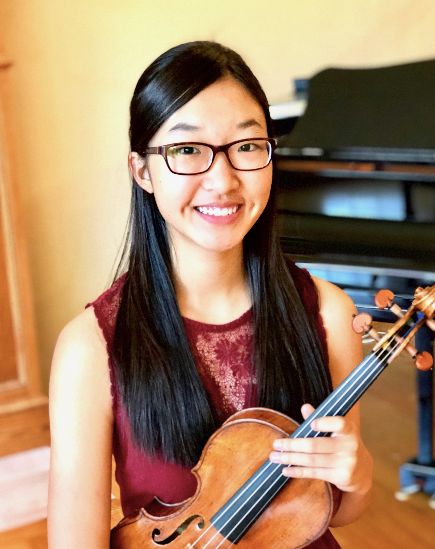 Young Artist Competition Winner
---
Christine Lee, age 17, is currently a senior at Saratoga High School. She began playing violin at the age of 5, and is currently studying under Zhao Wei at the San Francisco Conservatory of Music, Pre-College Division. Her previous teachers include Wei He and Eugenia Wie.
Christine was selected as a prizewinner of the 2019 National YoungArts Foundation and attended YoungArts Los Angeles in March of 2019, where she worked with professional musicians and other winners for a week. She was also chosen as a violinist in Carnegie Hall's 2019 National Youth Orchestra of the United States of America (NYO-USA), where she performed with 119 other members selected across the nation and three European countries. This year, she was accepted as a member of NYO-USA 2020.
She has also earned awards in competitions, including Grand Prize at the Korea Times Youth Music Competition in 2010 and 2017, first places in the 2014, 2016, and 2017 US Open Music Competition, the 2014 CMTANC International Youth Music Competition, the 2014 California Youth Symphony Associate Orchestra Concerto Competition, the 2017 and 2019 Saratoga High School Concerto Competition, the 2018 Peninsula Symphony Young Musician's Competition, the 2018 Mission College Young Artist Competition, the 2018 Master Sinfonia Chamber Orchestra Young Artist Concerto Competition, and the 2019 California Youth Symphony Young Artist Competition.
As a soloist, she has performed with the California Youth Symphony Associate Orchestra, the Mission College Symphony Orchestra, the Saratoga High School Symphony Orchestra, the Peninsula Symphony Orchestra, and the Master Sinfonia Chamber Orchestra, and will perform with the California Youth Symphony and the Saratoga High School Orchestra in March of 2020.
Christine has been serving as the concertmaster in California Youth Symphony's Senior Orchestra since 2017, served as assistant concertmaster in the All-National Honor Orchestra in 2017 held in Orlando, Florida, and served as the concertmaster of the 2017 California All-State High School Symphony Orchestra as a freshman. She has been concertmaster of her school orchestra for several years.
In the summers of 2015, 2016 and 2018, she attended the Young Performer's program at Music@Menlo. She also attended the Meadowmount School of Music during the summer of 2017 under the tutelage of Professor Gerardo Ribeiro of the Bienen School of Music, Northwestern University. She has also performed in master classes led by Joseph Lin, Chen Xi, Wu Han, Laurence Lesser, and the Calidore String Quartet.
Christine also participates in volunteer activities through music such as HOP3BOX Benefit Orchestra, a group dedicated to helping underprivileged children; AMASE, where she teaches music to special needs students every week; and MESH, a volunteer group at her school where she helps teach violin to elementary school students. Aside from violin, Christine enjoys coding and consuming excessive amounts of boba.