Subscribe today to the California Youth Symphony's
2019-2020 Season!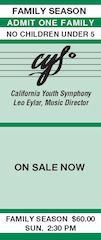 We are proud to announce that, under the continued leadership of Music Director
Leo Eylar, California Youth Symphony's 68th season includes an exciting array of concerts and repertoire. Whether you're gathering a multi-generational group to hear the California Youth Symphony or getting together for the holiday season, listening to symphonic music together will create family memories you'll cherish for a lifetime.
Order your season concert tickets today and save!
Order Your Tickets for the 2019/20 Season
---
SAN MATEO PERFORMING ARTS CENTER CONCERTS:
Single tickets for CYS concerts at the San Mateo Performing Arts Center may be purchased here below or at the San Mateo P.A.C. Box Office.
* All dates, times, locations and repertoire are subject to change.
*** While our concerts are performed by very young musicians, they are suitable only for children five years of age and older. Children under the age of five will not be admitted to CYS concerts.