Grace Huh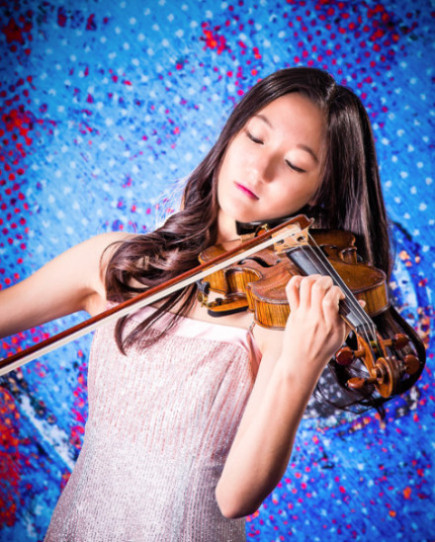 Young Artist Competition Winner
---
Fifteen-year-old violinist Grace Huh is a freshman at Lynbrook High School. She began playing the violin at the age of five and is currently studying with Ian Swensen of the San Francisco Conservatory of Music and Elbert Tsai of the Pre-College division. Her previous private teachers include Li Lin and Wei He.
Grace made her first solo debut in May 2015 at the age of twelve with the Palo Alto Philharmonic Orchestra. As the first violinist, she performed Bach Concerto for Three Violins with the San Francisco Chamber Orchestra in December 2015 and January 2016 at various halls including Herbst Theatre. Additionally, she has performed with ECYS Sinfonietta Orchestra in March 2017.
At the age of nine, Grace won Grand Prize at the Korea Times Youth Music Competition. She also won first prize at the Pacific Musical Society Scholarship Competition in 2015 and at the CMTANC Youth Music Competition in 2010. Furthermore, she received awards such as the DVC/HNU Young Artist Competition in 2015, the Menuhin-Dowling Competition in 2013, the CMTANC International Youth Music Competition in 2013, and the Pacific Musical Society Scholarship Competition in 2013. Additionally, Grace played solo in 2013 and chamber music in 2016 at the Junior Bach Festival.
Grace served as the Concertmaster in the El Camino Youth Symphony's Sinfonietta Orchestra during 2014-2016 and as Assistant Principal for the first violin section of ECYS Senior Symphony in 2016-2017. She now participates in the San Francisco Youth Symphony Orchestra. Since 2013, Grace played in the Korean-American Music Supporters' Association Youth Symphony Orchestra every summer. She attended Encore Chamber Music in 2016 and 2017, and participated in Summer Music West in 2014. Grace was a member of Trio Mariposa at Susan Bates' Young Chamber Musicians in 2016-2017, and she will now expand her experiences as a chamber musician at the San Francisco Conservatory of Music Pre-College Division.
Grace has performed in master classes led by Midori Goto, David Kim, Jan Sloman, and Mack McCray. Additionally, she worked with Susan Bates, Jinjoo Cho, Debra Fong, Eric Gaenslen, Minju Kim, Joseph Kromholz, Jeffrey LaDeur, Lisa Lee, Pasha Sabouri, and Nancy Zhou.
Grace also enjoys playing the violin and singing at local hospitals and retirement homes with her friends.