Isabella Costanza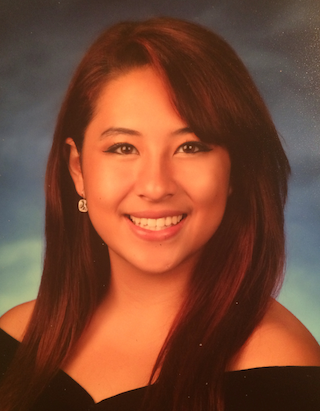 Senior Orchestra Concerto Competition Winner
---
Violinist Isabella Costanza, 18, began her violin studies at age four in Chicago.  She is a senior at Henry M. Gunn High School in Palo Alto, California, and she studies violin with Robin Sharp.  Isabella is Co-Concertmaster of the California Youth Symphony, with whom she will be featured as soloist in May, as Winner of the CYS 2014 Graduating Seniors' Concerto Competition. Isabella was also a member of the Palo Alto Chamber Orchestra (PACO) for five years.
Isabella is first violinist of the Chiaroscuro String Quartet, coaching with Susan Bates and sponsored by Young Chamber Musicians.  Isabella's quartet was named Winner of the Inaugural Galante Prize, for best pre-college chamber ensemble, at the 2014 Yehudi Menuhin Chamber Music Festival & Seminar.  Isabella's honors and awards also include: Semi-Finalist for the Mondavi Center Young Artists Competition (2013);  two-time winner of the PACO Concerto Competition (2007 & 2009); Honorable Mention in the Fremont Symphony Young Artists Concerto Competition (2010); and Winner of the Palo Alto School District Music Teachers' Scholarship Audition (2008). 
In summer of 2012, Isabella performed the West Coast premiere of John Corigliano's "Lullaby for Natalie", under the guidance of the composer.  She received an AP Scholar's Award in May 2013, after achieving two perfect scores on Advanced Placement exams. 
Isabella has participated in the Green Mountain Chamber Music Festival in Burlington, Vermont; Boston University Tanglewood Institute (BUTI) String Quartet Workshop in Lenox, Massachusetts; California Summer Music at Sonoma State University; and Bay Chamber Concerts Next Generation Summer Chamber Music Program in Rockport, Maine.  Isabella has performed in violin masterclasses for renowned teachers Robert Lipsett and Andrés Cárdenes.  Her chamber music coaches include David Finckel, Scott St. John, Geoff Nuttall, the Miró Quartet, Lynn Chang, Lawrence Dutton, Peter Zazofsky, Marc Johnson, Hans Boepple, and Milan Vitek.
In addition to her musical activities, Isabella enjoys traveling, creative writing, fashion, hanging out with friends, and practicing yoga.  She aspires to attend one of the nation's top music conservatories next year.