Misha Galant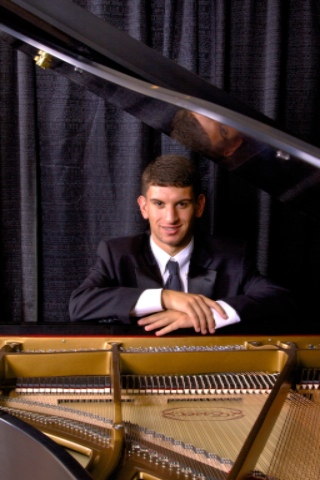 Young Artist Competition Winner
---
Misha Galant is a senior at California High School in San Ramon. He began piano lessons at the age of six and continued for 12 years with his mother, Olya Katsman. Misha's musical heritage includes three generations of pianists, including his great-grandmother who was a student of Maria Yudina along with Vladimir Horowitz, and his great-grandfather who studied with Heinrich Neuhaus in Kiev, Ukraine. 
His accomplishments include first prizes in the Marylin Mindell Piano Competition, the Ross Mckee Piano Competition, the Pacific Musical Society competition, the San Jose International Piano Competition, and the Henry & Carol Zeiter piano competition at UOP, along with numerous other local competitions. He was the state winner in the 2010 MTAC concerto competition and again in 2015, when he was inducted into the selective Young Artist Guild. Misha has performed with several orchestras, including the Oakland East Bay Symphony, the Peninsula Symphony, the Utah Symphony, the Livermore-Amador Symphony, the Rochester Philharmonic, and the Santa Rosa Youth Orchestra. In November 2015, he performed the complete Rachmaninoff's third concerto with the California Youth Symphony and will be joining that orchestra on a tour of Austria and Italy this summer.
In June 2010, at the age of 12, he gave his first full solo recital in Mountain View and has been performing regularly since then. As a member of the Young Artist Guild, he is in great demand as a recitalist around California.
In the summer of 2015, he was a prizewinner in the first Van Cliburn Junior competition in Fort Worth, Texas, garnering the Best Classical Sonata Performance and Audience prizes. He also won Third and Audience prizes at the Eastman Young Artists International Competition and was awarded a full tuition undergraduate scholarship to the Eastman School of Music.
Misha serves as an accompanist for both his former and current high school choirs. He is also a member of the Music Students' Service League, an outreach program that gives benefit concerts in retirement communities. In the fall, Misha will be attending Columbia University as one of eight students accepted into its joint exchange program with the Juilliard School this year.
Misha is indebted to Sharon Mann and Yoshikazu Nagai of the San Francisco Conservatory of Music for their invaluable and inspirational coaching.