Young Artist Competition
2023 Young Artist Competition
On June 11, the California Youth Symphony will hold its annual Young Artist Competition at Sol Joseph Recital Hall at the San Francisco Conservatory of Music. The Competition is open to pianists and instrumental soloists under the age of 19. Two young artists will be chosen by a panel of judges to perform with the CYS Senior Orchestra during the November or March concert series of the 2023-24 Season. A monetary award will also be presented to the winners.
Applications are now OPEN and will close on May 20.
Location: San Francisco Conservatory, 50 Oak Street, San Francisco
IMPORTANT: The application fee of $75 is non-refundable, and payments are only accepted through PayPal. Before applying, please pay careful attention to the rules and guidelines for acceptable/non-acceptable concerti.
---
Congratulations to our 2022-23 season prize winners!
The California Youth Symphony is thrilled to announce the winners of this year's Young Artist Competition. The competition took place on March 27, 2022, at Stanford University. This year, 33 students participated in the competition, which consisted of a preliminary round and a final round.



Valery & Starla Breshears

Violin & Cello Soloists
1st Prize Winner - Instrumental Division
Brahms: Double Concerto for Violin & Cello




Jeston Lu

Piano Soloist
1st Prize Winner - Piano Division
Beethoven: Piano Concerto No. 5 "Emperor"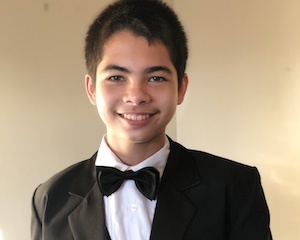 Dustin Breshears
Violin
2nd Prize Winner - Instrumental Division
Tchaikovsky: Violin Concerto
---
Bravo to all contestants. We also honor the following finalists:
Clara Schultz, cello
Erica Liu, violin
Jeston Lu, piano
Shannon Ma, violin
Starla and Valery Breshears, violin and cello
Dustin Breshears, violin
All musicians exhibited exemplary musicianship and artistry and showed a broad depth of outstanding talent within the Bay Area. We encourage all applicants to continue their musical studies and further their artistic growth.
---