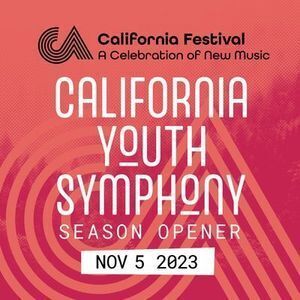 The CYS Orchestra's 72nd season, under the baton of Music Director Leo Eylar, presents a riveting season opener on Sunday, November 5, 2023, at 2:30 pm, joining other orchestras and ensembles throughout the state for the California Festival: A Celebration of New Music. Featuring the world premiere of Memorias Argentinas by noted Argentinian composer Valeria Pelka, the piece is three-movement work inspired by the African roots of much Argentinian folk music: in particular, the chacarera, zamba, and malambo. Eighteen-year-old Young Artist Competition winner Rin Homma performs Ravel's jazz-inspired Piano Concerto in G Major. The concert also includes Falla's Final Dance from The Three-Cornered Hat and closing the exciting program is the ultra-romantic Symphony No. 1 by Finnish composer Jean Sibelius. 
Reserve Your FREE Tickets to the

November 5th, 2:30 PM

Season Opener Concert!
---
TICKETING INFORMATION:
Admission is free, but an advance ticket reservation is highly recommended and appreciated. You can also reserve on your smartphone when you arrive at San Mateo P.A.C. The reservation email will be used in the unlikely need for COVID case contact tracing.
* All dates, times, locations, and repertoire are subject to change.