Join us online Sunday, December 20 at 2:30pm as the California Youth Symphony presents a spectacular, free holiday concert. Over 400 talented young musicians from our seven orchestras and ensembles will perform a variety of music including holiday favorites, classical gems and music drawn from video games and beloved films like Home Alone, featuring friends from Music in the Mountains Chorus. The hour long concert is the result of months of online rehearsals with our music directors and coaching staff. Through the magic of modern technology each individual musician's contribution is woven together to make full orchestra and ensemble performances. We guarantee that you will be amazed and delighted with the results. You can attend this first ever CYS virtual concert by clicking on our YouTube channel below on Sunday, December 20 at 2:30pm.
This concert broadcast will be free for all to enjoy on December 20, 2020, at 2:30pm Pacific.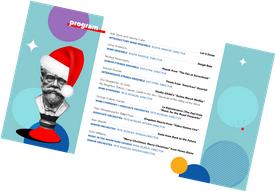 Program Book
Access your copy of our Winter Showcase program book for information on all the pieces that will debut this afternoon, orchestra rosters, and more!
Show Information
Run time: approx. 75 minutes (including preshow)
Make sure to log in early as there will be a preshow 15 minutes before the show starts.
Have a smart TV or streaming device? Watch this video to learn how to watch our livestream on your TV!
---
Make Concerts at Home Special!
We sorely miss performing for audiences in-person, but we still want to help make your CYS concert at home a day to remember. Attending a virtual concert at home has many perks, including lounging on a comfy couch or enjoying a picnic outdoors! Here are a few things we recommend to make your virtual concert at home fun:
Hi-low fashion: dress in your favorite concert-going outfit OR lounge in your comfiest clothes
Clap whenever you want! 
Add comments to the chat on YouTube.  Let us know from where in the world you are viewing! 
Invite friends and family to watch the concert together. Call or Zoom each other afterward to chat about your favorite parts.
Share your viewing experience with the CYS community by posting a picture on social media! Tag us at @CYS.org and use the hashtag #CYSWinterShowcase
Review Your Technology Needs
See below to review our audio and video recommendations before streaming on this afternoon.
Pre-Concert Livestream
Set a reminder for the concert on your YouTube account by clicking here. Once on the CYS YouTube page, click on "Set Reminder" and YouTube will notify you when the concert is about to be LIVE in your time zone. 
Note: If you don't have a YouTube account you can still watch the concert!
Have a plan for how you will watch the concert. First, decide which device you will be using for video and audio. Next, choose where to set it up to ensure you are comfortable during the concert. We also recommend doing a test by watching any YouTube video before the concert begins.
Video Quality
For a more immersive experience, we recommend watching virtual concerts on a desktop computer or TV screen using Google Chrome. Select the full-screen icon in the bottom right corner of the video.
The speed of your internet connection will determine your video quality. If you are experiencing low quality or grainy footage, your internet connection may be slow. Try refreshing your browser and turning wifi off on any other unused devices. 
Within the limits of your internet speed, you can control the video resolution by clicking on the gear icon in the bottom right corner of the video. After clicking, select a video quality other than "Auto."
Sound Quality
Use your best headphones if watching the concert alone. If watching in a group, connect your device to a great Bluetooth speaker for optimal quality. 
If you can't hear the video, here's what we recommend:

Check the volume on your device. Then check the volume on YouTube by clicking on the microphone in the bottom left corner. 
If that does not work, check that the correct speaker or headphones are successfully paired with or connected to your device.