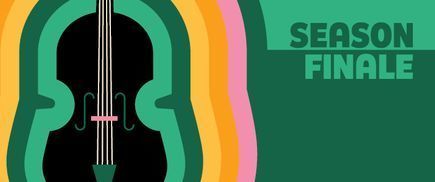 Season Finale - String Ensembles and Associate Orchestra
Maestros Eylar and Kyme close the CYS String Ensembles and CYS Associate Orchestra Seasons with a program guaranteed to please and dazzle listeners. Maestro Kati Kyme will direct the Junior and Intermediate String Ensembles, with musicians ranging in age from 7-16, in exciting performances from Vivaldi, Holst, Borodin, Haydn, and others! The Associate Orchestra will feature Evelyn Wang, our flute soloist winner of the Associate Orchestra Concerto Contest, who will perform Cécile Chaminade's evocative and impressionistic Concertino for flute and orchestra. We will also be spotlighting AO percussionist Apple Gao, who will be performing the rarely heard Russian Marimba Concerto by Sergei Golovko, a tour-de-force of virtuoso writing for both soloist and orchestra. The orchestra will close the season with selections from Prokofiev's masterpiece ballet Romeo and Juliet, the ever-popular Danzon No. 2 by Arturo Márquez, and Mussorgsky's Night on Bald Mountain.
Concert Highlights
---
Intermediate Strings
Borodin: Quartet No. 2 in D Major, 1st movement
C.P.E. Bach: Symphony in G Major, Wq. 182, 1st movement
Haydn: Quartet in D Minor, opus 76 #2, 1st movement
Junior Strings
Dvořák: Symphony No. 8 in G major, opus 88, 3rd movement
Holst: St Paul's Suite, 1st movement
Vivaldi: Concerto for 2 Violins in A Minor, 1st movement
Warlock: Selections from Capriol Suite for String Orchestra
Associate Orchestra
Chaminade: Concertino for Flute and Orchestra, (Evelyn Wang, soloist)
Golovko: Russian Marimba Concerto (Apple Gao, soloist)
Prokofiev: Selections from Romeo and Juliet
Márquez: Danzon No. 2
Mussorgsky: Night on Bald Mountain
Associate Orchestra Concerto Competition Winners
---
Apple Gao is a 14 year old percussionist and currently goes to Lynbrook High School in San Jose. They have been learning and playing percussion since the age of 5.
Evelyn Wang, 15, has been part of CYS for 4 years. She started playing flute at the age of 8 and is currently studying with Grace Lai. 
Associate Orchestra Concerto Competition
---
California Youth Symphony's annual CONCERTO COMPETITION for the Associate Orchestra offers its current students a special challenge and an opportunity for public recognition. All students in the Associate Orchestra are encouraged to compete. One of two winners will debut in this Festival Afternoon concert.