CYS March 2014 Concerts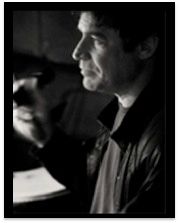 Sunday, March 16, 2:30 PM 
Flint Center for the Performing Arts - DeAnza College
21250 Stevens Creek Blvd., Cupertino 
Get Directions 
Sunday, March 23, 2:30 PM 
Jackson-Smith Theater - Ohlone College
43600 Mission Blvd., Fremont (on Witherly Ln.)
Get Directions
Leo Eylar, conductor
Arthur Storch, guest conductor
Adrian Lin, soloist
The CYS Senior Orchestra continues its exploration of American symphonic masters with works by Gershwin, Creston and Harrison, as well as Richard Strauss's 1888 dazzling masterpiece Don Juan. Join our CYS Percussion Director Artie Storch as he leads the orchestra in the CYS premiere performance of Lou Harrison's A Parade, which features a tantalizing combination of both Western and Eastern musical influences and instruments. Our 2013 Young Artist Competition winner Adrian Lin will perform Paul Creston's brilliant Concerto for Marimba and Orchestra, and the program will conclude with the ever-popular Symphonic Picture from Porgy and Bess, arranged in 1942 by George Gershwin's close friend and associate Robert Russell Bennett.  Bennett chose many of the most famous songs and melodies from the opera, including Summertime, I Got Plenty O' Nuttin', Bess You Is My Woman Now, and It Ain't Necessarily So, to create an enthralling compendium of the opera's greatest "hits". Don't miss this eclectic and entertaining concert!
Program
Harrison: A Parade (conducted by Artie Storch)
Creston: Concerto for Marimba and Orchestra
Strauss: Don Juan
Gershwin/Bennett: Porgy and Bess: A Symphonic Picture
Guest Conductor
As an active Bay Area free-lance musician, Artie Storch is a regular extra percussionist for the San Francisco, Silicon Valley, Oakland and Marin Symphonies, and has performed with ensembles ranging from Masterworks Chorale to Metallica.  He is a frequent player in the Bay Area theater scene, where he has performed in numerous shows including The Producers, White Christmas, Beautiful (The Carole King Musical), and the long-running Phantom of the Opera.
His recording credits include playing drums and/or percussion for movies (Mars Attacks, Inspector Gadget, The Iron Giant, Spy Kids, Jurassic Park 3, Hellboy, Barnyard, Seventeen Again, Ghosts of Girlfriends Past); television (The Man Who Captured Eichmann, Sesame Street, Young Indiana Jones, Running Mates); commercials for Saturn, Nissan, Hershey's, Taco Bell; records by Randy Newman, Linda Ronstadt, John Williams, Chanticleer, and The San Francisco Symphony; and video games (Gran Turismo, Siphon Filter Omega Strain, The Simpsons, Uncharted, Uncharted 2, Star Wars:The Force Unleashed, Star Wars: The Old Republic, Starcraft II, Kinect Disneyland Adventures).
Mr. Storch received a Bachelor of Science degree from Brooklyn College, CUNY, where he studied with Morris Lang of the New York Philharmonic, and a Master of Music degree from The Juilliard School, where his principal teacher was Saul Goodman.
He teaches privately, and is on the faculties of California State University East Bay and Chabot College where he teaches percussion and directs the percussion ensembles.
Mr. Storch is also the Percussion Director for the California Youth Symphony.
Artie Storch endorses Vic Firth drumsticks and mallets.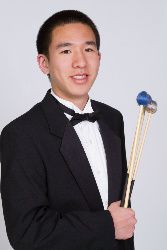 2013 Young Artist Competition Winner
Adrian Lin, marimba
Adrian Lin began playing percussion at the age of 8.  Most recently, he has been selected as one of five percussionists in the country to join the 2014 National Youth Orchestra of the USA.  In the past, he has also been a part of the Juilliard Summer Percussion Seminar and the CA All-State Honor Band Wind Symphony.  Click here to read more...