Associate Orchestra Concert, March 10, 2013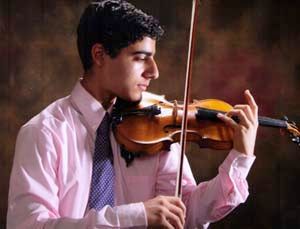 Associate Orchestra Concert
Sunday, March 10 at 2:00 pm
at the Smithwick Theatre, Foothill College
Winning Soloist to be Featured by Associate Orchestra
 
The California Youth Symphony Associate Orchestra under the direction of Leo Eylar will present its Winter Concert in the Smithwick Theatre at Foothill College, Los Altos Hills at 2:00pm on Sunday, March 10. The program will feature David Babanezhad a winner of the 2013 Associate Orchestra Soloist Competition, performing the Vieuztemps Violin Concerto no. 5, one of the most demanding violin concertos in the repertoire and a true showcase for both the soloist and the orchestra.
In this varied concert Maestro Eylar and the Orchestra will continue their exploration of French composer Georges Bizet that was begun at the holiday concert by featuring the L'Arlesienne Suite no. 1. For the first time the Orchestra will present selections from West Side Story by Bernstein as well as the dramatic overture to Martha by Flotow. The program is rounded out with the always popular Soirees Musicales by Benjamin Britten, a set of five movements that the composer took from Rossini piano works, fashioning them into exquisite orchestral gems.  Please join us on March 10.  There is no admission charge for the concert.
Directions to Smithwick Theatre, Foothill College: